"Everyone is a genius. But if you judge a fish on it's ability to climb a tree, it will live it's whole life believing that it is stupid." - Albert Einstein.
I have a deviantArt Page, but my works have yet to appear. Stay tuned if you're interested!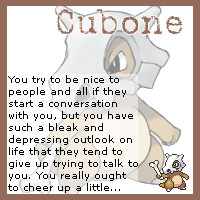 I find that this isn't true. WHERE'S SCYTHER?!?!!?!? THAT MADE MUCH MORE SENSE!!!!